Have Your Voice Heard - Ward 11 Trustee By-election
Posted on November 13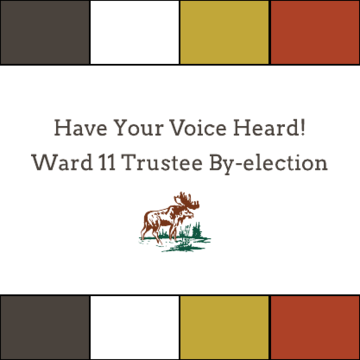 Updated Friday, November 13, 2020
Nominations for the vacant Ward 11 Trustee closed at 12 noon on Tuesday, November 10th. As no candidates have come forward the nomination period is extended and open daily from 10 AM -12 noon, until at least one candidate is nominated (to a maximum of 5 additional business days ending at the latest on November 18th,  per section 31 the Local Authorities Election Act). After at least one candidate is nominated then that day will be the last day nominations are open.
Have your voice heard!
Are you passionate about the future successes of students in the Northland School Division? Do you want to make a difference? Be a leader and consider running for Ward 11 Trustee. Eligible parents and community members are encouraged to run for school board trustee. The ward includes the Elizabeth Métis Settlement and Fishing Lake Métis Settlement.   
The primary role of a school trustee is to serve and advocate for all students and to understand and reflect community values and priorities for schools.
Interested individuals can get more information from Secretary Treasurer Douglas Aird at 780-624-2060 ext 6141. Nomination papers can be filed at the Northland School Division central office located at 9809 77th Avenue, Peace River. If more than one nomination form is received, the election will occur on December 8, 2020. 
Important Information for those interested in running for Ward 11 Trustee