Contract Bus Route Tender 2021-2022
Posted on July 20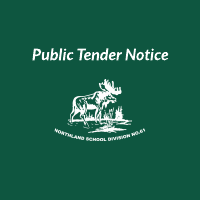 Northland School Division is seeking proposals for contract bus routes for the 2021- 2022 upcoming school year. The contracts will be a 3-year term with an option for extension. Proposals will be received until 2:00 pm location time on August 9, 2021. Please submit tenders via email, courier, or mail to:
"Contract Bus Route Tender 2021-2022"
Attn: Douglas Aird, Secretary-Treasurer
Northland School Division
9809 77 Avenue
Peace River, AB T8S 1C9
Tenders@nsd61.ca
Please note: Faxed tenders will not be accepted.
For more information, please review the following documents: