Public Tender - Northland Central Office Fire Alarm Upgrade
Posted on December 2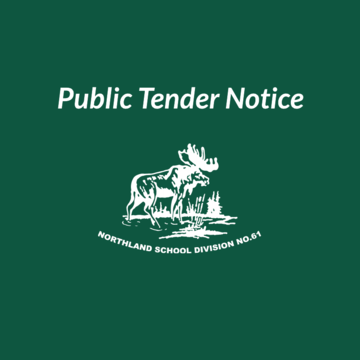 We are seeking quotes on the removal of the old fire alarm panel and remote annunciator and installation of a new system. The office is located in Peace River, Alberta. A detailed scope of work is available through the Alberta Purchasing Connection website at www.purchasingconnection.ca or the
Northland School Division website at www.nsd61.ca. 
Direct all inquiries to Kent Rein at 780-618-8727 or email Kent.Rein@nsd61.ca. 
Quotes to be submitted via mail, courier or emailed to:
Mail:
The Northland School Division
Attention: Trudy Rasmuson, Secretary-Treasurer
P.O. Bag 1400
9809-77 Avenue
Peace River, Alberta T8S 1V2
Email: tenders@nsd61.ca
Please quote on envelope or subject line "Central Office Fire Alarm Upgrade".
Faxed bids will NOT be accepted.
Tender closing will be Dec 20, 2019, at 2:00 pm. The tender opening will follow at
2:30 p.m. at Northland School Division Central office, located at 9809-77 Avenue,
Peace River, Alberta T8S 1V2. Bids received after the closing will NOT be accepted.
Click here for more information. 
Click here to view Addition to the Scope of Work.