Have Your Voice Heard - Ward 1 Trustee By-election
Posted on March 16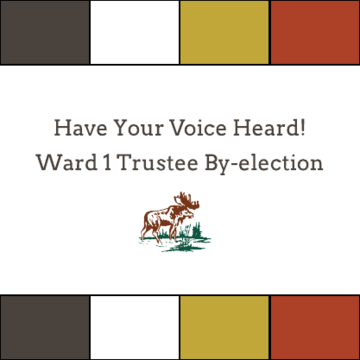 Have your voice heard!
The Board of Trustees set Monday, April 25, 2022, as the By-election date for the vacant Ward 1 Trustee position.
Are you passionate about the future successes of Indigenous children and youth? Do you want to make a difference?
Be a leader and consider running for Ward 1 Trustee. Eligible parents and community members are encouraged to run for school board trustee. 
The primary role of a school trustee is to serve and advocate for all students and to understand and reflect community values and priorities for schools.
Don't miss this opportunity to support Northland students achieve their fullest potential.
***Nomination Day is Monday, March 28, 2022, ***
Interested individuals can submit nomination papers right now at Paddle Prairie School or at the Northland School Division central office located at 9809 77th Avenue, Peace River until noon on March 28, 2022. 
If more than one nomination form is submitted on Nomination Day, the election will occur on Monday, April 25, 2022. 
Important Information for those interested in running for Ward 1 Trustee