NSD schools to attend WE Day October 22nd in Edmonton
Posted on October 21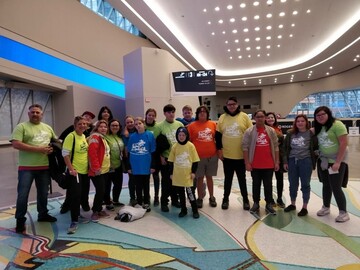 Hundreds of students are representing 'Team Northland' at WE Day tomorrow (October 22, 2019)! 'Team Northland' is celebrating with thousands of students at Rogers Place in Edmonton who committed to improving their community and the world. 
The growth in this area for one 'Team Northland' school was on display for everyone to see in 2017. Mistassiniy School (Wabasca-Desmarais) Mentor Blade Anderson spoke about the school's WE inspired project on stage in front of thousands of people at the Scotiabank Saddledome in Calgary. The Mistassiniy mentors came up with the idea to research residential school history in Wabasca-Desmarais. From January until the end of June 2017, students interviewed Elders about their residential school experiences within the missions.
Background Information: 
Published July 25th: http://nsd61.ca/about-us/division-news/post/mistassiniy-school-mentors-present-research-project-at-world-indigenous-peoples-conference
Published by the Athabasca Advocate October 3, 2017: https://nsd61.ca/download/115718
The stories and photos have been published in a book called Kayas Ayamikamik Acimowina: Old Stories of the Mission. 
A special moment occurred during WE Day Alberta 2018. Lorraine Cardinal-Roy, Director of First Nations, Métis and Inuit Learner Success, assisted with the start of the show by performing the blessing and the land acknowledgment. Click here to watch the video. 
Watch for WE Day updates tomorrow on the NSD Facebook and Twitter pages:
Facebook: https://www.facebook.com/NorthlandSchoolDivisionNo61
Twitter: https://twitter.com/northland61
Watch WE Day https://www.we.org/watch-we-day/!