Public Tender - Renovation of Four (4) Houses Located in the Community Janvier, Alberta
Posted on July 20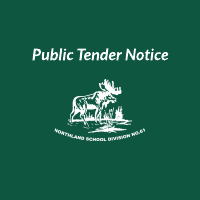 Northland School Division is seeking bids from contractors to renovate four houses located in Janvier, Alberta. The closing date for this tender is August 10, 2021, at 2:00 p.m local time. Bids submitted after this date and time will be rejected. Please submit bids via email, courier, mail, or hand-deliver to:

"Renovations Janvier Housing 2021"
Attn: Douglas Aird, Secretary-Treasurer
The Northland School Division
9809-77 Avenue
Peace River, Alberta T8S 1C9
Tenders@nsd61.ca
Note: Faxed tenders will not be accepted.
For more information, click here to review the bid package.