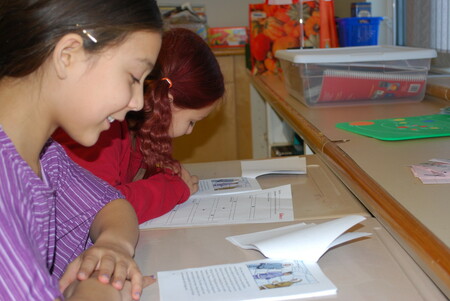 Northland School Division's mandate is to provide an education program that aligns with the standards of education set by
Alberta Education and enables students to successfully complete grade 12, and to provide programs and opportunities that enhance and support the integrity and self-development of each child entrusted to its care. To make sure students achieve this mandate, we implemented a division-wide Literacy Initiative in 2012 with an objective to improve literacy practices and enhance reading, writing and comprehension skills for students. 
For this initiative, there is a major focus on oral language and reading in various forms. For example, reading out loud, listening to a fluent reader for reading or writing, learning to chunk things down into manageable components and at the same time building the students' stamina. Since the Literacy Initiative launch, schools work with the Daily 5 and Café, which is basically the learning process of reading to self, reading to others, listening to reading, working on writing and vocabulary development. 
The Literacy Leadership Team (Division Principal, Literacy, Pedagogical Supervisor and school literacy leads) are involved in helping teachers understand the initiative. This occurs through one on one support, Professional Learning Communities, and online/in person Professional Development sessions.
Another important focus for this initiative is the assessment piece. Teachers assess where students are in their reading by using benchmark assessment tools (PM Benchmarks, Jerry Johns) and from that, they use various guided reading resources at the instructional level of the child to guide their growth. These resources include appropriate First Nations material, fiction and non-fiction texts in different genres. Teachers also gauge writing using a diagnostic tool called Whole School Write; a strategy to assess the writing strengths and challenges for students. Whole School Write will help students develop abilities to write non-fiction forms like writing reports, letters, applications, resumes, portfolio pieces and other types of writing needs for the future. 
Since 2012, we are pleased with how schools are implementing the Literacy Initiative and with student growth. Click here to view an article relating to positive results (Page 3 in the June, 2017 Board Highlights, Superintendent's Report). 
To support this work, we also run a Summer Reading Program! The purpose of the Summer Reading Program is to increase access to books for children in Northland communities over the summer and to help students avoid summer reading loss. 
We would also like to recognize our friends from Cenovus Energy! We have partnered together to enhance reading and writing materials that support Indigenous culture, community resources and professional development sessions. 
For more information please contact: 
Janette Cavanaugh
Division Principal, Literacy
Phone: 780-624-2060