Board of Trustees statement about masking in Northland schools
Posted on February 18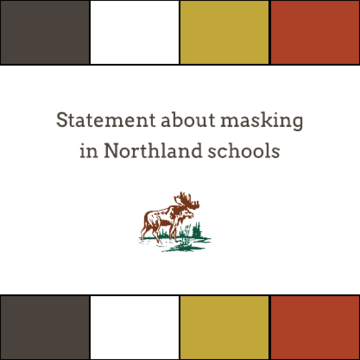 During the Regular Board Meeting, the trustees discussed the recent changes announced by the Government of Alberta to masking requirements for students. Effective February 14, 2022, the requirements of the Government of Alberta states students are no longer required to wear masks in schools or on the buses. 
The Board's preference is to enable students who prefer to continue to wear masks when classes resume on Tuesday, February 22, 2022. The Board supports individual choice of students and parents. 
The Board and Administration supports safe and caring schools where students feel comfortable and safe from harassment and discrimination while learning and interacting with their peers and school staff. Northland School Division will act upon any unacceptable behavior directed at students or staff.  If there are any questions or concerns, please contact your school principal.
The Board and Administration thank students, parents, staff and community members for the continued support during this challenging time. Northland School Division is committed to making sure all students love to come to school in Northland.