Career Pathways School (Outreach)
2783 Neewatim Drive
Wabasca, Alberta
T0G 2K0
Phone: 1-800-362-1360 Ext. 6400
Fax: (780) 891-2636
Grades: 10 to 12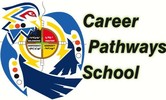 Administration
Angela James
Flex Program Coordinator/Science/Math Teacher: Dawn Power
School Education Plan
Students work through two-three academic courses at a time and also have the opportunity to work on CTS courses such as sewing, foods, art and more. Students are required to meet the Alberta Educaiton requirements of 100 credits in order to achieve a High School Diploma. Students can also receive a Certificate of High School completion which requires 80 credits.
Introduction
Here at Career Pathways School, we aim to educate youth from across Northern Alberta in achieving their dreams. We work with all types of youth including, at risk students and young parents. Our programming is academic and follows the Alberta Curriculum. Our blended learning environment provides students with alternate and flexible programming; a combination of web-based and in-person learning; one-on-one support from all staff. As well, we strive to have a calm, safe and welcoming atmosphere for our students.
Motto
Choose Your Path ....
Mission
To ensure that all students have the opportunity to acquire the knowledge, skills and attitudes required to be self-reliant, responsible, contributing members of society.
Philosophy
Every student shall achieve the highest level of education to provide the greatest happiness and success in life.
Programs & Services
Flex Program: This program offers online and blended learning to over 10 communities across Northern Alberta. It is our pleasure to assist young students in achieving educational success. Students have the option of working at home or in their nearest Northland School Division school. Students have access to staff when required and connect with the school on a regular basis. Bussing is available to all students residing in Sandy Lake and Wabasca.