2021-2025 Board of Trustees sworn in at Organizational Meeting
Posted on November 3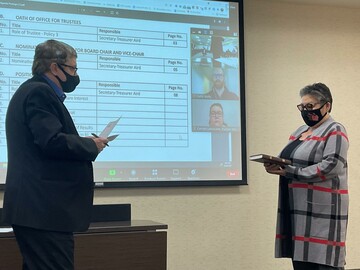 Members of the Board of Trustees of Northland School Division were officially sworn in during the Organization Meeting. Following the swearing-in ceremony, trustees filled the position of Board Chair and Vice-Chair. 
Ward 7 (Wabasca & Chip Lake) Trustee Robin Guild will once again serve as the Chair of the Northland School Board. Guild has served as Board Chair since June 14, 2019. Ward 2 Trustee Cathy Wanyandie will now serve as the Board Vice-Chair. Trustee Wanyandie has served as Ward 2 Trustee (Susa Creek) with NSD since 2017 and this is a new role for her. 
Congratulations to the Board of Trustees for 2021-2025! Check out the photo gallery below!