2022 Northland Games honored a local Elder and celebrated student competition
Posted on June 9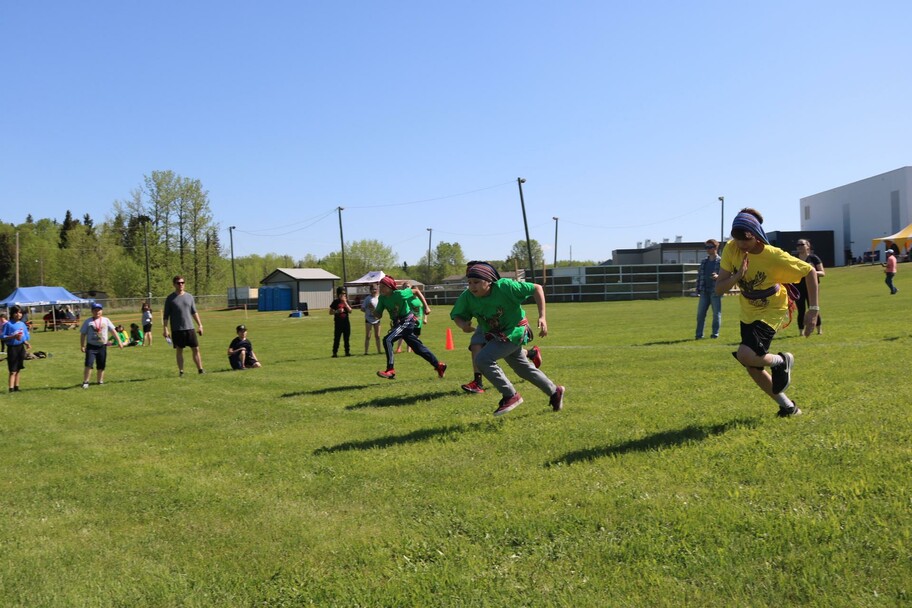 You could not ask for better weather on Friday, June 3rd in the Gift Lake Métis Settlement. For the first time since 2018, hundreds of Northland School Division student-athletes from across the province competed in traditional games and track and field events. From 2019 to 2021, the games were canceled due to wildfires and COVID-19 restrictions.
Before the competition began in Gift Lake, an opening ceremony was held to welcome all of the athletes, staff, and volunteers and to honor Elder Marina Anderson. Marina passed away a few days before the Northland Games. 
During the ceremony, it was announced that the Northland Games would be dedicated to Marina and her family. Marina's granddaughters Anneka Anderson, Heather Anderson, and Courtney Anderson participated in the ceremony and were presented with Northland Games t-shirts by Northland School Division Board and Administration representatives. 
The opening ceremony also included an opening prayer from Elder Jenny Laderoute, a Cree blessing by grade 2 students, Oh Canada by grade 1 students, and a welcome message from the Gift Lake Métis Settlement Acting Administrator Ken Shaw. Following the opening ceremony, the NSD student-athletes competed in a number of traditional games and track and field events:
Ages 5-10
Ages 11-18

40 Meter Race
Obstacle Course
Ball Throw
Standing Long Jump
Bone Foot Throw
Dog Sled Relay
Hoop Toss
Walrus Push

High Jump
Discus
Shot Put
Long Jump
100 Meter Race
200 Meter Race
Cross Country
Kneel Jump
Sash Relay
In addition to the traditional games and track and field events, a group of Gift Lake School students performed a Métis Jigging demonstration over at the pavilion and the Northland moose even made an appearance! 
Thank you to the Northland Games Committee and to all of the volunteers who made the 2022 edition a major success. Congratulations to all of the student-athletes who participated. You made your school community proud! 
Northland Games 2022 Photo Gallery