2023-2024 Back to School Information
Posted on August 17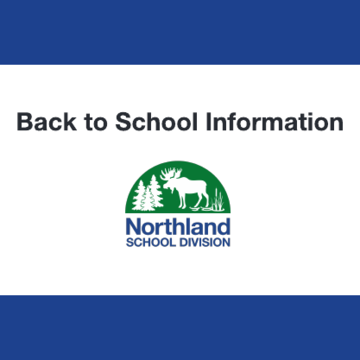 Tansi, Edlánat'e, Hello, 
The 2023-2024 school year is just around the corner! Classes will resume on September 5, 2023. 
Re-registration
For re-registration, parents or guardians have the following options for verifying information with their local school:
Drop off the verification form.
Email the verification form.
Verify information via text message or phone call.
New Student Registration
For new students, parents or guardians will need to fill out a registration form. Click here to access the registration form. In addition, parents, and guardians will need to provide one of the following documents:
Birth Certificate
Residency Document
Canadian Citizenship Document
Passport
Please contact your local school on completing the registration process. You can also contact central office at 780-624-2060.
School Bus Information
All students must be registered to ride the school bus. This includes contracted buses and students attending junior high and high school in another town. Click here for more information. Please contact your local school for school bus times, pick-up and drop-off locations, and general information. Parents will need to provide a physical address (not a box number).
Kindergarten Information
The start date for kindergarten may vary from school to school. Please contact your school to confirm the start date.

Helpful Information 
2023-2024 school year calendar
School websites and contact information
Follow the Northland School Division on Facebook