School Board Trustee Election 2017 - Voting information
Posted on October 10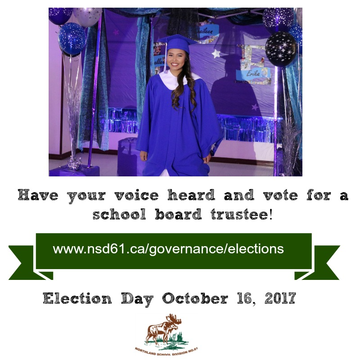 Tansi, Edlánat'e, Hello,
Do you want to ensure Northland students are strong in identity, healthy and successful? Want to help us be a leader in Indigenous Education? Have your voice heard and vote for a school board trustee! School Board Trustee Election Day is October 16th.
There are school board trustee elections in seven Northland School Division wards between 10:00 a.m. and 8:00 p.m.: 
Ward
Polling Station Location
Address
1
Paddle Prairie School

Paddle Prairie, Alberta
Keg River, Alberta

3
Bishop Routhier School
Gift Lake School
Peavine, Alberta
Gift Lake, Alberta
4

Hillview School
Northern Lakes College Room W102

East Prairie, Alberta
64 Mission Street, 
5
Little Buffalo School
Kateri School
Peerless Lake School
Little Buffalo, Alberta
Trout Lake, Alberta
Peerless Lake, Alberta
7
St. Theresa School
Chipewyan Lake School 
Wabasca, Alberta
Chipewyan Lake, Alberta
8
Calling Lake School
Calling Lake, Alberta
11
Elizabeth School
J.F. Dion School

Elizabeth Metis Settlement, Alberta
Sputinow, Alberta
In order to vote: you must produce identification for inspection.  The identification must be one or more piece(s) of a government-issued identification containing the elector's photograph, address and name.  This includes an Operator's (Driver's) license or an Alberta Identification card.  In addition, if your government-issued identification has a box number as your address you must produce a second document that contains your civic and/or legal land address.
For more information please visit the Northland School Division's School Board Trustee Elections webpage http://nsd61.ca/governance/elections.
NOTE: Updated maps for Ward 7 - Wabasca, Chipewyan Lake are also available on the webpage.