Alberta-Pacific Forest Industries Inc. Awards Community Enhancement Award to Calling Lake School
Posted on January 26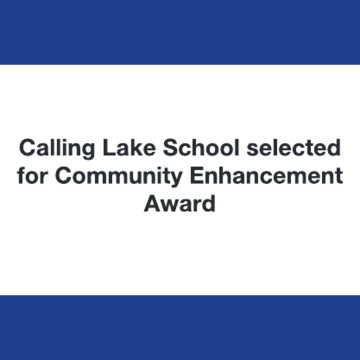 Alberta-Pacific Forest Industries Inc (Al-Pac) is pleased to announce that Calling Lake School has been selected as a recipient of the Community Enhancement Program award. The Al-Pac Community Enhancement Program provides a grant of up to $25,000 to eligible non-profit organizations within our neighboring communities and forest management area.
Calling Lake School applied for the Community Enhancement Program award in an effort to create an outdoor learning and cultural space for students and the community. This space will be open to the entire community and will be used for land-based learning activities and cultural Cree ceremonies led by traditional knowledge keepers.
"On behalf of the Board of Trustees, we thank Al-Pac for investing in education," said Cathy Wanyandie, Board Chair, Northland School Division. "The outdoor learning space supports Northland School Division's focus on achieving our top priority, which is excellence in learning."
"We continue to focus on weaving local First Nations and Métis knowledge into the learning experience," said Dr. Nancy Spencer-Poitras, Superintendent of Schools/CEO, Northland School Division. "We thank Al-Pac for supporting the creation of this outdoor learning space. The learning space will help connect the community to the school and help enhance the learning experience for Northland students in Calling Lake."
"Al-Pac is proud to support Calling Lake School in their initiative to develop a space for students to learn together and develop an enhanced understanding of cultural traditions in their community." said Diane Smith, Business Unit Leader, Stakeholder Relations & Sustainability at Al-Pac. "The Community Enhancement Program was developed with the intent to support the contributions of non-profit organizations in our neighboring communities through funding for capital projects and enhancements."
Materials for the project have been purchased, with construction slated to begin in early fall of 2023.
ABOUT ALBERTA PACIFIC FOREST INDUSTRIES INC.
Alberta-Pacific Forest Industries Inc. (Al-Pac), is a leading manufacturer of quality kraft pulp in North America. Since beginning operations in 1993, Al-Pac has taken pride in being a leader in our industry, from our quality products, mill operations and responsible forest management practices, to the way we grow and develop our team members and work with local communities. We are continuously exploring new and innovative ideas, while delivering premium products with a commitment to strong environmental stewardship and corporate social responsibility.  For information on the company, visit www.alpac.ca.