Be a leader and consider running for Ward 5 Trustee
Posted on November 1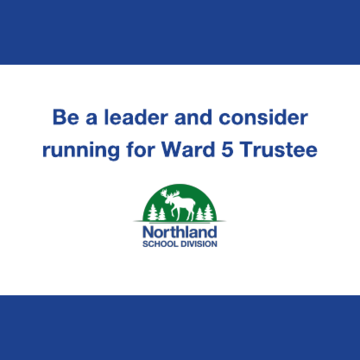 Are you passionate about the successes of Northland students? Do you want to make a difference? 
Be a leader and consider running for Ward 5 Trustee! Eligible parents and community members are encouraged to run for school board trustee. The ward includes Elizabeth Métis Settlement and Fishing Lake Métis Settlement.

Interested individuals can submit nomination papers right now at J.F. Dion School, at Elizabeth School or at the Peace River office until noon on November 21, 2022.

If more than one nomination form is submitted on Nomination Day, a By-election will occur on December 19, 2022. 
Important Information for those interested in running for Ward 5 Trustee