Breakfast Club of Canada and Danone visit Northland school communities to celebrate agreement
Posted on November 2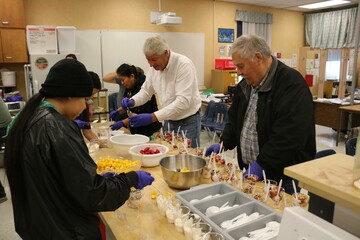 Northland School Division (NSD) welcomed a couple of education partners! The Breakfast Club of Canada and one of its corporate partners Danone Canada came to Mistassiniy School and Gift Lake School to celebrate an agreement they have in place with Northland School Division. The agreement supports eight Northland schools. 
"We are thrilled to have a funding agreement in place with Breakfast Club of Canada and its corporate partners like Danone Canada," said Cathy Wanyandie, Board Chair. "The Board believes making sure sustainable funding and supports are in place to ensure students have access to a healthy breakfast is important. The Board would like to thank everyone who helped to make this agreement possible."
"I want to thank the Breakfast Club of Canada and Danone Canada for taking the time to visit two Northland communities.," said Dr. Nancy Spencer-Poitras. 
"Breakfast Club of Canada is very grateful to have had the opportunity to meet with inspiring and wonderful youth, elders, educators, Northland School Division leaders, and with community members," said Tommy Kulczyk, President & CEO of Breakfast Club of Canada. "We were moved to experience and feel the impact of a breakfast school program on children's lives. Throughout this journey, we are very fortunate to be able to count on dedicated partners such as Danone Canada who share the same value: breakfast for every child every day." 
The Club helps reach more than 580,000 children in over 3,500 school programs in academic and community settings across the country. The ultimate goal: breakfast for every child, every day. A short video was put together to highlight the visit. Click on the website link to view the video https://www.facebook.com/BreakfastClubDejeuner/videos/1622472321502364.