Cenovus donates $250,000 to Northland School Division No.61
Posted on October 24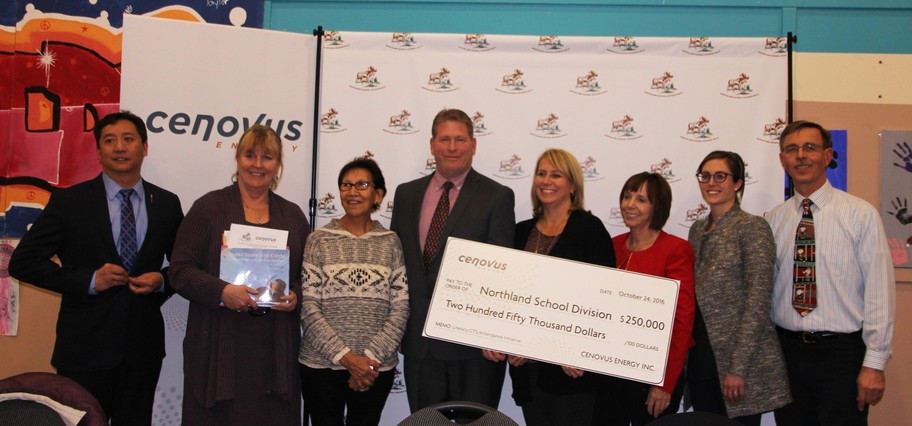 Cenovus Energy Inc. today announced a $250,000 donation to be made over two years to Northland School Division No.61 (NSD61). The donation illustrates a continued commitment to support three key programs across the division. Cenovus is investing $125,000 in the Literacy Initiative, $97,500 in Career and Technology Studies (CTS) and $27,500 in the Attendance Improvement Initiative 'Every Day Counts'.
"Our investment in the Northland School Division is an excellent example of our long-term support for education programs, with an emphasis on literacy" says Vicki Reid, Director, Community Affairs. "We hope this initiative will have a positive impact on the students by helping them to stay in school and increase graduation rates across northern Alberta."
"Since the beginning of this partnership, Cenovus has been instrumental in helping us deliver professional learning for our educators and enhancing materials for literacy and CTS programs," said Gord Atkinson, NSD61 Superintendent of Schools. "We also want to thank Cenvous for supporting our focus on improving student attendance."

The NSD61 programs, with support from parents and community members, help set students up for success by creating an opportunity to develop strong literacy skills and build the confidence needed to pursue their dreams.

"Cenovus's donation for the Literacy Initiative will continue to enhance reading and writing materials that support Indigenous language and culture, professional development opportunities and training for our educators," said Janette Cavanaugh, NSD Division Principal Literacy.

Career and Technology Studies (CTS) uses hands-on learning to help students stay engaged in school and find careers that match their skills and interests. Because most NSD high schools are small, they don't have the same kinds of resources that larger schools in urban centres do. The CTS curriculum, equipment and materials will enable students across the division to gain exposure to a wider range of experiences and career possibilities to help them achieve their goals.

"Cenovus's donation will support school-based projects, CTS camps, visits to Skills Canada and visits to post-secondary institutions," said Randy Chernipeski, NSD61 CTS School/Industry Partnership Administrator.

Cenovus is also pleased to assist the division's focus to improve student attendance. Since implementation, overall attendance for NSD61 has increased by three percent.

"The funding from Cenvous will help us develop an Elders program in each community," said Don Tessier, Associate Superintendent. "Community Elders are highly respected and can be a vital aspect of any school attendance improvement program."

Since 2014, Cenovus has donated $1.15 million to support literacy, CTS and student attendance programs at NSD61.