Cenovus donates $900,000 to Northland School Division No.61
Posted on January 29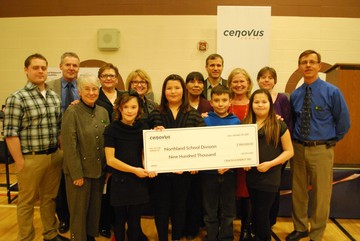 Cenovus Energy Inc. today announced a $900,000 donation to be made over three years to Northland School Division No.61 (NSD61). The donation will support two key programs that will benefit students across the division. Cenovus is investing $450,000 in the Literacy Initiative and $450,000 in Career and Technology Studies.
"At Cenovus, we know investing in all types of education will help to create a vibrant future for our communities," said Vicki Reid, Cenovus Director, Community Affairs. "Cenovus supports programs that help students stay in school, increase graduation rates in the communities where we operate and teach life skills that lead to better futures."
The NSD61 programs, with support from parents and community members, help set students up for success by creating an opportunity to develop strong literacy skills and build the confidence needed to pursue their dreams.
"Cenovus's donation for the Literacy Initiative will enhance various reading and writing materials that support Aboriginal culture, community resources and professional development sessions," said Gail Sajo, NSD61's Literacy Supervisor.  
Career and Technology Studies (CTS) uses hands-on learning to help students stay engaged in school and find careers that match their skills and interests. Because most NSD61 high schools are small, they don't have the same kinds of resources that larger schools in urban centres do. The CTS curriculum, equipment and materials will enable students across the division to gain exposure to a wider range of experiences and career possibilities to help them achieve their goals.
"Cenovus's donation will support the creation of CTS trailers and kits for schools, field trips to Skills Canada events, post-secondary school visits and professional development sessions for staff," said Randy Chernipeski, NSD61's CTS School/Industry Partnership Administrator.
"We value our partnership with Cenovus in an effort to enhance literacy materials and CTS programs across our jurisdiction," said Donna Barrett, NSD61's Superintendent of Schools.
"Support from Cenovus will increase our ability to provide quality learning experiences for all students."