Excellent conversations during a community engagement at Grouard Northland School
Posted on February 9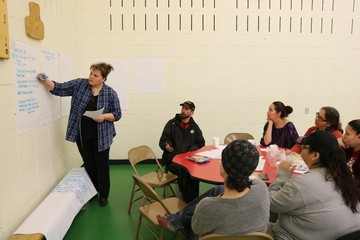 February 7, 2018 - Northland School Division (NSD) kicked off a series of community engagement sessions at Grouard Northland School to discuss education programming and student success. The sessions are part of NSD's Regional Education Program Review for Grouard Northland School, Gift Lake School, Bishop Routhier School (Peavine Métis Settlement) and Hillview School (East Prairie Métis Settlement). 
"NSD created five outcome statements to support student success," said Shelley Willier, Area 1 Associate Superintendent. "In order to meet Outcome Statement #1, Northland students are strong in identity, healthy and successful, we need participation from staff, parents and community members to ensure schools have the resources to support sustainable student success."
At the community engagement at Grouard Northland School, parents, community members, and staff were asked what does Outcome #1 mean to them, where should we focus efforts to improve educational programming and how can Grouard, Gift Lake, Bishop Routhier and Hillview Schools work together to further support learning. 
The conversation transitioned to high school. Parents, community members, and staff were asked about high school programming options and a regional high school concept to serve students in smaller communities. A regional high school was listed as a recommendation in the Northland Inquiry Team Report. The Regional Education Program Review team will return to Grouard Northland School on Wednesday, February 28, 2018, to share a "What We Heard" Report to parents and community members. The team wants to validate the information before moving forward.
Special thank you to parents, community members, and staff who attended and to the everyone who helped with the supper and the door prizes!