Floor plan approved for the new Mistassiniy School
Posted on March 24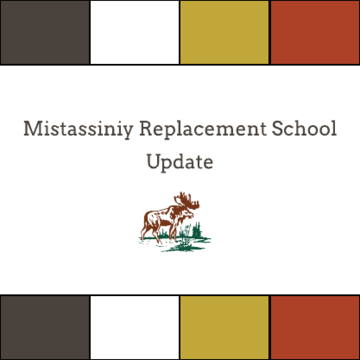 The floor plan (schematic design) for the new Mistassiniy School has been approved and the project is moving into the design development phase. The floor plan outlines the following:
The layout for classrooms to primarily teach core subjects (math, science, social studies, language arts). 
The layout for learning spaces to teach Career and Technology Studies/option programs (possible examples are mechanics, carpentry, welding, culinary arts, art, etc.) including the new Culinary Arts kitchen
The gymnasium with bleachers for physical education and extracurricular opportunities. 
The layout for the front entrance (circular design), office space for staff and rooms for counselling and wrap around services. 
The outside design of the school and layout for outdoor classrooms, the front entrance, parking, school bus lane, trees, shrubs, recreation spaces, etc. 
"The Board is pleased with the direction of this project," said Robin Guild, Board Chair. "The schematic design captures meaningful feedback we received from students, parents, guardians and community members, through a variety of methods; surveys, Zoom meetings, meetings, etc.  We are excited for this project to move forward; A facility that meets the needs of students and the community." 
"Efforts to get a new state of the art facility built for Mistassiniy School students has been ongoing since the early 2000s, said Dr. Nancy Spencer-Poitras, Superintendent of Schools. "Students will benefit from the educational programs that can be enhanced through the new facility. In addition, the opportunity to offer new CTS programming, like the Culinary Arts program will assist NSD students in completing high school with the possibility of earning dual credits upon entering a post-secondary program."
In the design development phase, NSD will continue to work with Alberta Infrastructure, Alberta Education, and BR2 Architecture to finalize specific details for: 
Classrooms and learning spaces. For example, finalizing important design details for constructing spaces for operating a lunch program and a culinary arts program. 
Mechanical, electrical and technology infrastructure. 
Inside and outside design of the school. For example, ensuring the new school makes use of natural light. 
The schematic design includes feedback from students, parents, guardians and community members who have attended the community engagement sessions. During those sessions, NSD asked for your feedback on educational programming, cultural components, and other features the division should consider for the school. Once the design development is complete, the next steps will lead towards breaking ground on the project; which is slated for the fall of 2021.