Northland Games 2018
Posted on June 4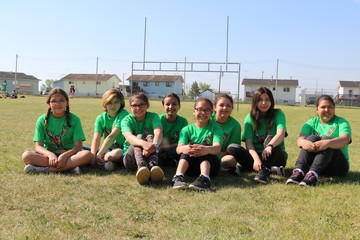 The Northland Games celebrated student athletics and Indigenous culture on May 25, 2018, at Mistassiniy School. 
The event began with an opening ceremony. Thank you Elder Mike Beaver, the local drummers, Ward 6 Trustee Silas Yellowknee, Area 2 Associate Superintendent Nancy Spencer-Poitras and Mistassiniy School Principal Shelly Hamelin for welcoming everyone to an annual tradition at Northland School Division (NSD)
Hundreds of NSD student-athletes from across the province competed in track and field events. Elementary students participated in events like soccer kick, ball throw, standing long jump and relay races. Junior High and High School athletes competed in high jump, long jump, discus, shot put and various running disciplines.
In addition to the track and field events, students, parents, staff and community members were able to participate in traditional games and cultural activities. And the Northland Moose made a special appearance once again at the Northland Games. 
Special thanks to the NSD maintenance department for preparing the track and fields for competition and to the volunteers who made the Northland Games possible. 
Scroll down to view the photo gallery. You will notice students, staff, and volunteers wearing multi-coloured Northland Games t-shirts :)
Northland Games 2018 Photo Gallery #1
Northland Games 2018 Photo Gallery #2