Northland School Division Christmas Card - Student Artwork Contest Winners
Posted on December 20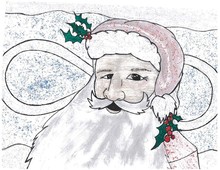 Congratulations to this year's winners of our Christmas Card Artwork Contest! The winners, who were selected by the Board of Trustees, will each receive a $50 gift card.
Khayelle Mirabete, Grade 5, St. Theresa School
Sienna McAdam - Gamble, Grade 8, J.F. Dion School
Naomi Daniels, Grade 7, J.F. Dion School
See artwork below!