NSD Attendance Recognition and Awards Program recipients for 2018-2019
Posted on June 25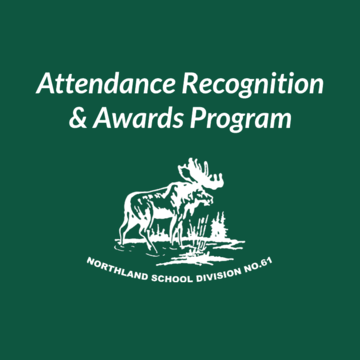 Northland School Division (NSD) is pleased to announce the division's Attendance Recognition and Awards Program recipients for the 2018-2019 school year. The program strategies are aimed to recognize excellent student attendees, attendance improvement, student achievement and efforts made by parents and schools. Congratulations to the following schools, students and families:
Award Strategy #2 – Year-end plaques presented to schools achieving an overall attendance rate of 88% or better and eligibility for school attendance award
Schools recognized with plaques: J.F. Dion School, Pelican Mountain School, and Hillview School. All three schools were then entered into a draw to win $3000. The dollar prize will go towards supporting the school's educational goals.
$3000 Prize Winner: Hillview School
Award Strategy #3 – Year-end Draw for $500 Family Gift Card and a $250 Family Gift Card
At year-end, names of all students whose attendance is between 90%-100% are placed in a draw for $500
$500 Family Gift Card winner: Darcy Pederson, Paddle Prairie School
At year-end, names of all students whose attendance growth has improved by 15% or more over the previous school year will be eligible for a $250 Family Gift Card.
$250 Family Gift Card winner: Nickolas Carifelle, Bishop Routhier School
Award Strategy #7 – Students achieving excellence in attendance (95% or better) throughout the school year are provided with certificates of achievement and a lunch outing with the trustee and principal
A number of NSD schools are presenting certificates to students who achieved excellence in attendance at year-end assemblies.
Award Strategy #8 – Highest Percentage of Growth
At year-end, two schools with the highest percentage growth in attendance over the previous year will receive a $1000 award. With input from students and parents, award monies will be used by the school to achieve future educational goals of their choice.
$1000 Highest Percentage of Growth winner: Athabasca Delta Community School (Fort Chipewyan) and Mistassiniy School. Both schools achieved a 22% increase.
To learn more about NSD's Attendance Improvement Initiative 'Every Day Counts', visit https://www.nsd61.ca/programs/attendance-improvement-initiative.