NSD educator selected as ASBA Zone 1 Edwin Parr Teacher Award recipient
Posted on September 22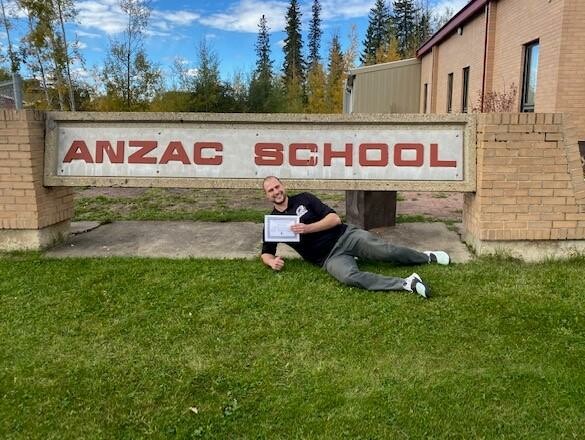 Northland School Division (NSD) congratulates Andrew Belsheim, Anzac Community School for being selected for the Alberta School Boards Association (ASBA) Zone 1 Edwin Parr Teacher Award recipient. The Edwin Parr Teacher Award recognizes first-year teachers that demonstrate exemplary dedication and commitment in the field of education. Andrew is the third NSD educator to win the Zone 1 Edwin Parr Teacher Award. 
"Andrew's dedication to the profession as a first-year teacher is evident," said Robin Guild, Board Chair. "Andrew has embraced the northern lifestyle and is making a difference for students. On behalf of the Board of Trustees, we congratulate Andrew for being selected as the Zone 1 Edwin Parr Teacher Award winner."
"The Northland team is very proud of Andrew's achievement," said Dr. Nancy Spencer-Poitras, Superintendent of Schools. "Andrew has established excellent strategies to differentiate learning for his students. The classroom environment he has created empowers students to discover their individual strengths and leverage them through the learning experience. He emulates a lifelong learner as he engages in numerous professional learning opportunities offered by NSD. We know Andrew's success is going to inspire students and other NSD teachers to be the best they can be!
The announcement was made during the ASBA Zone 1 Virtual Fall Awards Ceremony on September 22, 2021. Andrew will now be recognized with other Edwin Parr Teacher Award winners from Zone 2,3,4,5 and 6 on November 14, 2021, at the ASBA Fall General Meeting in Edmonton.