NSD Edwin Parr Teacher Award nominee recognized at ASBA Fall Awards Ceremony
Posted on September 13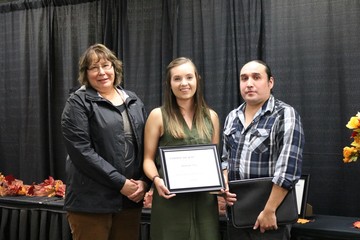 Northland School Division No.61 (NSD) had a reason to celebrate today (September 12, 2018) at the Alberta School Boards Association (ASBA) Zone One Fall Award Ceremony. Hanna Wiltzen, St. Theresa School, received recognition from ASBA for her Edwin Parr Teacher Award nomination. The Edwin Parr Teacher Award recognizes first-year teachers that demonstrate exemplary dedication and commitment to the field of education.
"I couldn't be more honoured," said Wiltzen. "There are so many excellent teachers starting their careers every year, and I feel lucky and overwhelmed to be highlighted. This award nomination helps show that I am making progress in that goal and I can't wait to keep growing in my journey as a teacher."
"Hannah is an exemplary teacher who truly loves teaching and children," said Debbie Mineault, Principal, St. Theresa School. "She does an excellent job of planning and developing engaging hands-on learning moments for students. If something isn't working for a student, Hannah will try different approaches and look for alternative ideas until she finds something that will work for that particular student."
"On behalf of the Board of Trustees, we congratulate Hannah on being nominated for a prestigious award," said Maddy Daniels, Board Chair. "Hannah's dedication to the profession is evident and we appreciate the efforts she makes to ensure students love to come to school and are successful."
The announcement was made during the ASBA Zone 1 Fall Awards Ceremony at the Sawridge Inn in Peace River on September 12, 2018.