NSD Family Wellness Workers showcased on CBC
Posted on August 30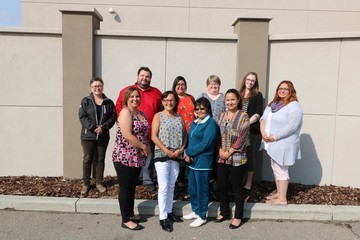 A good news story for NSD has been featured on CBC Television, Radio and CBC.ca! The story is about our Family Wellness Workers. Family Wellness Workers (FWW) are certified social workers who will be available to provide services to students and families in order to support emotional, behavioural and social wellbeing. From August 27th - 28th, NSD hosted professional development for 10 new Family Wellness Workers: 
Rhonda Laboucane (J.F. Dion School and Elizabeth School)
Tessa Frauenfeld (Calling Lake School)
Deborah Thunder (Career Pathways School/Pelican Mountain School/Chipewyan Lake School)
Zane Irmen (Mistassiniy School)
Tracey Schaible (St. Theresa School)
Lacy Winters (Gift Lake School/Bishop Routhier School)
Shirley Whitehead (Grouard Northland School/Hillview School)
Noella Richarde (Paddle Prairie School)
Heather Graham (Conklin Community School/Father R. Perin School)
Priscilla St. Pierre (Athabasca Delta Community School)
Click on the website links to view the video, article and radio interview! 
Online article and TV footage: https://www.cbc.ca/news/canada/edmonton/northland-schools-hires-family-wellness-workers-to-help-boost-attendance-1.4804205
Radio interview (Director of Student Services Stephanie Sutherland): http://www.cbc.ca/player/play/1309812803992