NSD's Flexible Learning Program helping more students graduate in home communities
Posted on January 20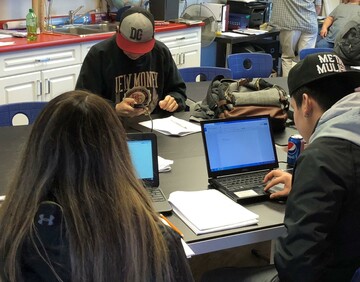 On February 1, 2017, Northland School Division (NSD) in partnership with Career Pathways School launched the Flexible Learning Program. Since its inception, the program has provided an alternative for students who want to complete high school in their home communities. 

Career Pathways School Principal Angela James says they have been working hard to expand the number of courses.  "We now offer over 55 different core and Career and Technology Studies (CTS) courses through the program," said James.

Elizabeth Dunleavy, the program coordinator talks about the program currently serving more than 75 students, two of whom are educational assistants in NSD.  "The educational assistants are working towards becoming part of a second NSD cohort pursuing a Bachelor of Education from the University of Calgary's Werklund School of Education. We have students in the program as far north as Fort Chipewyan to as far south as Calling Lake, and many points in between."

"Before NSD offered the Flexible Learning Program, students who attended schools without a high school program, had to leave home to graduate," said Nancy Spencer-Poitras, Superintendent of Schools. "It has been exciting to watch the evolution of this program. On February 1, 2017, we started with six students and now we have 78 enrolled. That means more students will graduate as NSD students."

"On behalf of the Board of Trustees, we thank Angela, Elizabeth and the Flexible Learning Program team for operating a successful alternative program for students," said Robin Guild, Board Chair "this program is an example of what NSD is doing to help students graduate and be successful in life." 

For more information about the program please contact Elizabeth Dunleavy at elizabeth.dunleavy@nsd61.ca or 780-849-7837. Click on the website link to view the Flexible Learning Program course list http://tinyurl.com/y555r8yu.