Pelican Mountain School Public Meeting Postponed
Posted on March 17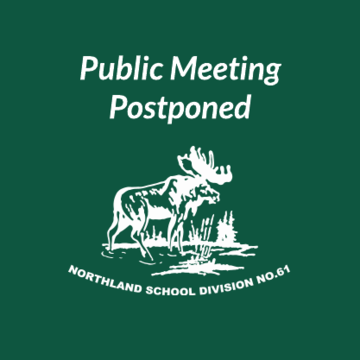 A public meeting scheduled Wednesday, March 25, 2020, to discuss the future of Pelican Mountain School has been postponed. Northland School Division (NSD) will communicate a new date to parents and community members once the information becomes available. 
On January 24, 2020, the Board of Trustees approved a notice of motion regarding the possible closing of Pelican Mountain School.
NSD's school closure policy (Policy 15 - School Closure) outlines a process for possible school closures; which includes hosting a public meeting. The meeting is an opportunity for parents and community members to provide input with regard to the future of Pelican Mountain School before a decision is made by the division's Board of Trustees. 
Once a new date is set, NSD will be presenting the Pelican Mountain School Viability Report; which was presented at the Regular Board Meeting on January 24, 2020, https://www.nsd61.ca/download/229828.