Fort Chipewyan educator selected as NSD's Edwin Parr Teacher Award nominee
Posted on May 4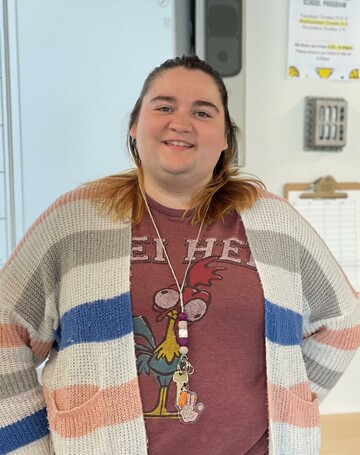 Northland School Division (NSD) is delighted to announce that Brittney Lyon, Athabasca Delta Community School (ADCS), has been selected as NSD's 2022 Edwin Parr Teacher Award Nominee. The Edwin Parr Teacher Award recognizes first-year teachers that demonstrate exemplary dedication and commitment in the field of education.
"I am so honored to be thought of for this award," said Lyon. "As a teacher, I never really think past my classroom. I come in everyday just to see how I can grow their minds and how I can help them. Being selected for this award is a great honor and I hope to make my students and school proud."
"On behalf of the Board of Trustees, we congratulate Brittney as the 2022 Edwin Parr Teacher Award nominee for NSD," said Robin Guild, Board Chair. "As a first-year teacher, Brittney's dedication for working with children is highly evident. We appreciate the passion and effort she puts in to support student success." 
"Brittney's teaching style is open-minded and creative," said Dr. Nancy Spencer-Poitras, Superintendent of Schools. "She is able to adjust or adapt her teaching style to ensure all students are engaged in the learning activities.  Brittney has created a learning environment where students can be seen smiling and are excited to learn. Congratulations Brittney!"
Ms. Lyon earned a Bachelor of Education from the University of Alberta in General Elementary. Brittney said she always dreamed of becoming a grade 5 teacher and the Northland School Division made this dream come true. 
Ms. Lyon will be recognized at NSD's Long Service Awards on June 16, 2022. Each year, the Alberta School Boards Association (ASBA) honors outstanding first-year teachers representing six zones throughout the province. Brittney will be recognized at the ASBA Zone One Luncheon in the fall of 2022.