Anzac educator selected as NSD's Edwin Parr Teacher Award nominee
Posted on April 28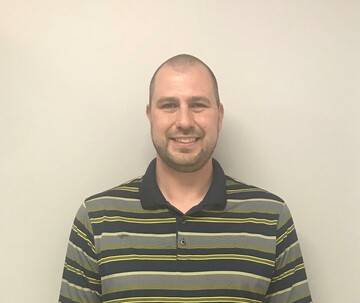 Northland School Division (NSD) is pleased to announce that Andrew Belsheim, Anzac Community School, has been selected as NSD's 2021 Edwin Parr Teacher Award Nominee. The Edwin Parr Teacher Award recognizes first-year teachers that demonstrate exemplary dedication and commitment in the field of education.
Before becoming a teacher, Andrew graduated from the University of Lethbridge with a Management Degree, majoring in Human Resources and Finance. Belsheim worked in related roles until 2020 when he graduated from the University of Calgary with a Bachelor of Education, specializing in Elementary Physical Education. 
"I was honoured to be nominated for this award," said Belsheim. "I understand that this recognition alone was significant. I did not expect to make it all the way to the final nomination for Northland School Division, this was a welcome surprise. I feel blessed to work for a school division and a school that supports new educators the way Northland and Anzac Community School have. I am proud that my dedication and hard work has been recognized not only by my Administration but also by the Board of Trustees."
"Andrew is an exceptional first-year teacher," said Cal Johnson, Anzac Community School and Bill Woodward School Principal. "Kindness and compassion are front and centre when you visit Andrew's classroom. His students are highly engaged, eager to learn and succeed. I am proud of the growth Andrew has made in such a short period of time."
"Andrew has established exemplary strategies to differentiate learning for his students," said Dr. Nancy Spencer-Poitras, Superintendent of Schools. "He has created a classroom environment where students feel respected, safe and excited to come to school and learn. Andrew empowers his students to discover their individual strengths and leverage them through the learning experience. Congratulations Andrew!"
"On behalf of the Board of Trustees, we congratulate Andrew as the 2021 Edwin Parr Teacher Award nominee for NSD," said Robin Guild, Board Chair. "Andrew's dedication to the profession as a first-year teacher is evident. We appreciate the effort he puts to support student success."
Dallon Perry, a teacher from Mistassiniy School, was a finalist for NSD's 2021 Edwin Parr Teacher Award Nominee. Andrew and Dallon will be recognized at NSD's Long Service and Recognition Awards. Five exceptional NSD teachers were originally nominated for this prestigious award. 
Each year, the Alberta School Boards Association (ASBA) honours outstanding first-year teachers representing six zones throughout the province. Andrew will be recognized at the ASBA Zone One Luncheon in September 2021.