Construction officially underway for the new Mistassiniy School
Posted on May 16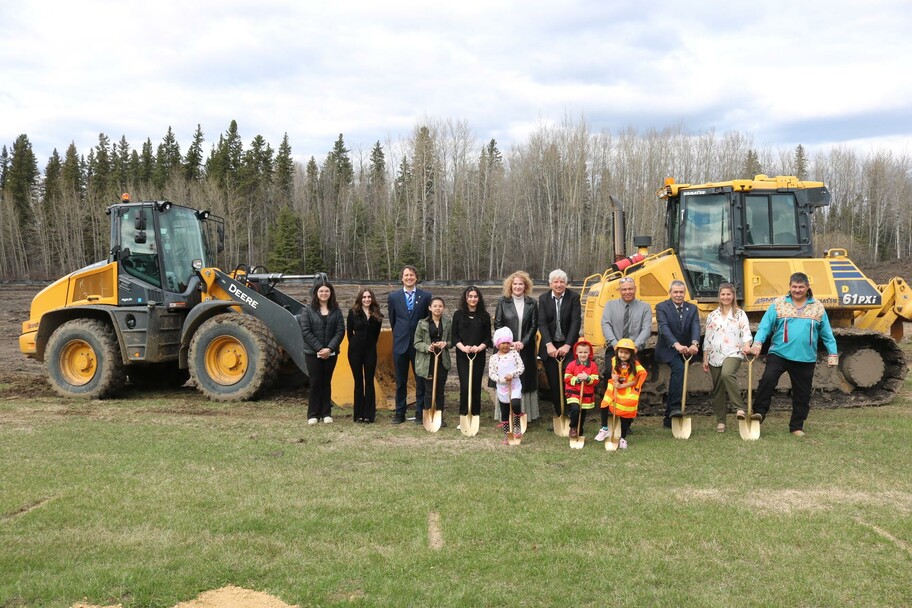 Group Photo Caption
Kallie Woodcock, Mistassiniy School student, Ghada Moallem, Mistassiniy School student, Leo West, Mistassiniy School Principal, Khayelle Mirabete, Mistassiniy School student, Yasmine Abdalrahim,  Mistassiniy School student, Dr. Nancy Spencer-Poitras, Superintendent of Northland School Divison, Robin Guild, Board Chair of Northland School Division, Marcel Auger, Reeve of Municipal District of Opportunity, Silas Yellowknee, Chief of Bigstone Cree Nation,  Martine Carifelle,  Constituency Assistant,  Lesser Slave Lake MLA Pat Rehn, Elder David Cardinal. 
Northland School Division (NSD) is pleased to announce that construction is officially underway for the new Mistassiniy School. To mark this special milestone, NSD hosted a sod-turning ceremony on Saturday, May 14, 2022. The finalized design for the new school will include a Culinary Arts kitchen, stations for mechanics, carpentry and welding. The front entrance has been specially designed in a circular pattern and the gymnasium will include bleachers for community spectators. The outside design of the school will feature outdoor classrooms along with recreation and green spaces. 
"The Board is excited to have construction underway for this school," said Robin Guild, Board Chair. "The final design captures the meaningful feedback we received from students, parents, guardians and community members, through a variety of methods; surveys, Zoom meetings, in person meetings, etc. With the feedback we received, the new school design celebrates 21st century learning, community spirit and traditional language and culture." 
"Alberta's government is committed to investing in new infrastructure, like the Mistassiniy School, because we how important projects like these are to Alberta communities. Construction of Mistassiniy School will provide a needed boost to the local economy and support about 175 construction-related jobs. Once completed, the new Mistassiniy School will ensure Wabasca and area Grades 7 to 12 students have the modern, state-of-the-art school they need to help them succeed," said Prasad Panda, Minister of Infrastructure. 
"I am very pleased that the Northland School Division is able to celebrate another success story," said Dr. Nancy Spencer-Poitras, Superintendent of Schools. The visual look and feel of the new school is absolutely stunning. From the very beginning, Northland wanted to ensure the new Mistassiniy School enhances the learning experience. The new school will be able to offer new Career and Technology Studies programming, like a Culinary Arts program. This will enable NSD students to have even more opportunities to take dual credit courses than what are already currently available. These dual credits give students a head start upon entering a post-secondary program."

"We can't wait to see Wabasca-Desmarais students learning in a new state of the art facility," said Guild. "On behalf of the Board of Trustees, I want to thank everyone who has helped with the new Mistassiniy School project."
GenMec ACL was selected as the contractor for the new Mistassiniy School project. GenMec ACL has spent the past 60 years building a reputation for construction excellence in Northern Alberta. They have built many beautiful new schools. Previous school construction projects in Alberta include Ecole des Beaux-Lacs, Ecole DuSommet, Cold Lake Replacement School, Kehewin School and Ecole Notre Dame High School. 
BR2 Architecture is leading the architecture and interior design development for the new Mistassiniy School project. BR2 Architecture provides professional, full-service Architectural Design, Interior Design and Planning Services throughout Alberta and Western/Northern Canada. They have completed a number of school facility projects in Alberta.
The construction completion date for the new Mistassiniy School is expected to be by the end of 2023.