Cully Robinson appointed Associate Superintendent
Posted on December 3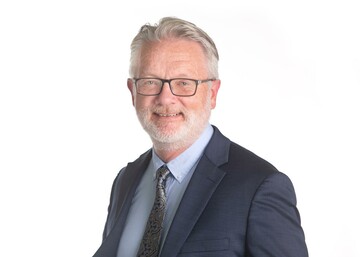 The Board of Trustees and the Superintendent of Northland School Division are pleased to announce the appointment of Cully Robinson as a new Associate Superintendent for the Division, effective January 1, 2021.
"Cully has extensive training and experience in teaching methodology, effective instruction and professional development," says Dr. Nancy Spencer-Poitras, Superintendent of Schools. "Cully has served as a teacher of complex needs students, as a principal in both British Columbia and the Yukon, as a Director of Education with a First Nation in the Yukon, as a Superintendent of Schools and the Director of Educator Development in Nunavut. We feel very confident that Cully is an excellent fit for this role and will assist the Division in meeting its goals for student learning".
The Superintendent continues, "We welcome Mr. Robinson to the Northland family and look forward to working with him to continue our pursuit of excellence in providing high-quality education for our students. Mr. Robinson was selected from a field of truly outstanding candidates.
Mr. Robinson brings over 30 years of experience as a public-school educator with northern, rural, urban and First Nations, Metis and Inuit involvement. He holds a Bachelor of Arts degree from Queen's University in Kingston, ON, a Bachelor of Education degree from the University of Windsor and a Master of Education degree from Fraser University in Vancouver. He is currently enrolled as a Doctoral student with the University of Calgary.
Cully comments, "This is an exciting opportunity for me; I am looking forward to building new relationships in the Division. Northland is a place where innovation and creativity are truly valued and where literacy and numeracy are delivered in a structured strategic approach. I want to engage in this opportunity because it offers a chance for me to have a significant impact on people's lives. I am truly honored to have been selected for the position of Associate Superintendent, Inclusive Learning Services.
Cully has a daughter and a son who are both lawyers, and a son who is a teacher. He values honesty, empathy and respect and enjoys volunteering and participating in community events with friends and neighbors.