Hundreds of NSD students attend Healthy Active School Symposium in Wabasca-Desmarais
Posted on October 11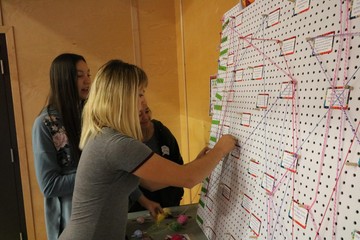 It was a day of celebration and an opportunity for students to participate in activities about healthy eating, active living and mental well-being. On October 6, 2017, over 150 students from Grouard Northland School, Mistassiniy School (Wabasca-Desmarais), St. Theresa School (Wabasca-Desmarais) and Pelican Mountain School (Sandy Lake) did just that while attending the Healthy Active School Symposium (HASS) at the Lakeview Sports Centre in Wabasca-Desmarais. This was the first HASS event ever hosted in a Northland School Division community. The HASS theme "Find the Leader within through the arts, creative expression and a growth mindset" shaped the activities for the entire day. 
The morning began with the #HASSreel Art experience. Students were tasked with selecting a specific colour of yarn and wrapping it around a health action peg that identifies with their school. 
Here is a list of other activities:
Alberta Health Services staff educated students about arctic sports such as one-foot high kick, kneel jump and head pull. Athletes compete in these events at the Arctic Winter Games which is taking place in Fort Smith and Hay River, Northwest Territories March 2018.
Phillip Nanimahoo from Bigstone Wellness hosted a progressive muscle relaxation session with students and staff. 
School Food Services Operations Manager Emily Hunt educated students about nutrition guidelines.
Lisa Watson from Bigstone Community Wellness spoke to students about managing stress.
Students also learned about developing a growth mindset. Students were tasked to write positive growth statements on a sheet of paper which is shaped like a brain. 
Following the breakout sessions, students and staff were asked to identify a priority area around healthy eating, active living and mental well-being for their school community. A special thank you to Ever Active Schools, Be Fit For Life Network, Alberta Health Services, Alberta Healthy School Community Wellness Fund University of Alberta, Municipal District of Opportunity and Northland School Division staff for making this event possible!
Scroll down to view the photo gallery!
Healthy Active School Symposium - Wabasca - Desmarais 2017!