Mistassiniy Replacement School Community Engagement
Posted on November 17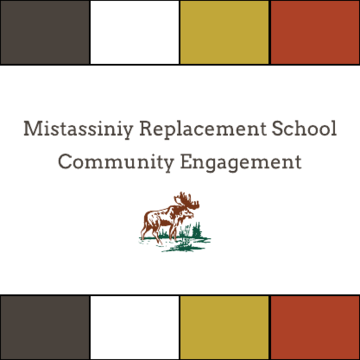 Important message for parents/guardians who have students attending Mistassiniy School, St. Theresa School, Career Pathways School, Chipewyan Lake School, and Pelican Mountain School
Hello Parents and Guardians: 
As you may be aware earlier this year there was an announcement that there would be a new school build instead of a modernization project to replace Mistassiniy. The new facility for junior/senior high students will replace the current Mistassiniy School. To ensure the new school meets the needs of students and the community, we invite you to join us for a virtual community engagement session via Zoom. Please join us on the day that works best for you. 
Date and Time: Tuesday, November, 24th and Wednesday, November 25th from 6:30 p.m. - 8:00 p.m.
Who: Northland School Division, Alberta Education, Alberta Infrastructure and BR2 Architecture 
Zoom Access: https://tinyurl.com/y23tm54n  


During the sessions, we will be asking for your feedback on educational programming, cultural components, and other features we should consider for the school. To assist you, please see the attached schematic design (see below). The draft design incorporates feedback from a value scoping workshop in 2016. The session was attended by students, parents, community members (Bigstone Education Authority, Atoske Action Group, Schroder Oilfield, Northern Lakes College), Mistassiniy School staff, and staff from other schools, the Official Trustee of Northland School Division and central office staff members from Northland School Division. Although this is a new school build instead of a modernization, many of the aspects from the original scoping have been included in the structure/envelope of the building.
If you're unable to attend a virtual community engagement session via Zoom, we encourage you to fill out the Mistassiniy New School - Community Engagement Survey online https://forms.gle/FAEdWnXUN6VaetRE8. If you don't have access to the internet, please fill out the paper copy you should have received from your local school. If you didn't receive a paper copy please contact your local school. The deadline to complete the survey is Wednesday, December 2nd. For those who would prefer to share the feedback orally, please contact Communications Coordinator Curtis Walty at 780-624-2060 ext. 6183 or curtis.walty@nsd61.ca so arrangements can be made. 
We look forward to your contributions to this new school. Thank you for your continued support. Be safe.


Sincerely,


Dr. Nancy Spencer-Poitras
Superintendent of Schools
The Northland School Division