New Principal/Teacher Orientation Highlights
Posted on August 22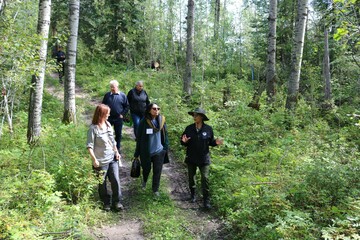 Our annual orientation for new principals and teachers has come to a close. Some more highlights from the four-day event.
The morning started with welcome addresses from Board Chair Robin Guild​, Vice-Chair Jules Nokohoo and Acting Superintendent of Schools Nancy Spencer-Poitras.
Following the welcome addresses, principals discussed annual education planning and teachers participated in Pebbles Training; which helps staff understand:
- Awareness: Understanding historical, legal and contextual terminology pertaining to Indigenous peoples.
- Acknowledgment: Understanding the significance of revitalizing First Nations, Métis, and Inuit cultures as supported by the Truth and Reconciliation Commission of Canada: Calls to Action.
- Atonement: Deepen awareness and knowledge of First Nations, Métis, and Inuit beliefs, traditions and practices to advance reconciliation.
- Action: Planning your path to reconciliation.
In the afternoon, Traditional Teachings Owner Justin Bourque educated principals and teachers about medicinal plants. Justin started out by presenting information on a powerpoint and then took the staff on a short hike to view medicinal plants.
The evening concluded with two social activities:
- Golf, and
- Mr.E's Solve-It-Torium YMM​
As you can see below, the staff who attended Mr. E's enjoyed themselves.
What a week it was! Thank you to the staff who helped to organize the activities and to the following individuals who helped to make the event a success:
- Elder Mary McKenzie
- Nick Giant (Drumming)
- Randy Marten (Drumming)
- School Food Services team for cooking delicious meals
- Anzac School - Bill Woodward School​ staff.
New Principal/Teacher Orientation Highlights