New Principal/Teacher Orientation Highlights - Tuesday, August 20, 2019
Posted on August 21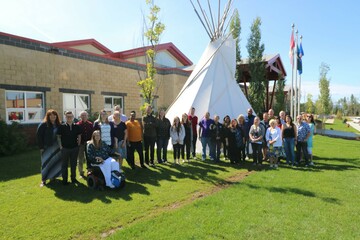 A gorgeous Tuesday helped to set the scene for a perfect day of learning for our new principals and new teachers at Bill Woodward School in Anzac!
New teachers learned more about Northland School Division (NSD) while using the trivial game-based platform Kahoot. For example, "How many square kilometers does NSD cover?"
Two current teachers with NSD, Nicole Hillman, J.F. Dion School​, and Adam Bourque, Father R. Perin School​, shared their experiences so far with Northland.
The key messages from both are to get involved in the community and understand where you are and enjoy it. Hillman, who is a member of the Northland The Alberta Teachers' Association​ Local No.69, also encouraged new teachers to get involved with the local.
In the afternoon, the new teachers participated in NSD's adaptation of the Kairos Blanket Exercise. The exercise is an interactive learning experience that covers 500 years of Indigenous history. The exercise is an example of what NSD is doing to prepare new staff for working in Indigenous communities.
Throughout the day for new principals, they reviewed division policies, discussed procedure scenarios, learned more about the division's focus on literacy and student attendance, organizing school council meetings and responsibilities they have with respect to Occupational Health and Safety.
New Principal/Teacher Orientation Highlights