Northland celebrates National Indigenous Peoples Day
Posted on June 20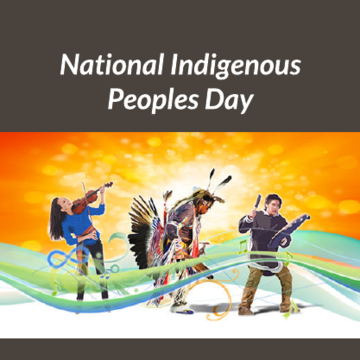 Canada's National Indigenous Peoples Day is annually held on June 21 to celebrate the unique heritage, diverse cultures, and outstanding achievements of the nation's Indigenous peoples. There are three Indigenous groups in Canada – the First Nations, Métis and Inuit peoples.
Learn more about events at Northland schools that celebrate and showcase Indigenous values, customs, language, and culture!
Athabasca Delta Community School: Athabasca Delta Community School students and staff are participating in Treaty Day celebrations in Fort Chipewyan. 
Calling Lake School: In recognition of National Indigenous Peoples Day, Calling Lake School is hosting a public screening of The Grizzlies on June 17, 2019. 
Elizabeth School: The school is hosting a Metis Day. Students will participate in traditional Metis games, take part in a nail pounding and log sawing contest and sample traditional Metis foods. The event will also include jigging, fiddle music and storytelling with Elders. 
Father R. Perin School: Father R. Perin School is hosting a two-day cultural event on June 25-26, 2019. The event is being planned by Dene Language Instructor Marina Nokohoo. The event will include traditional games and tipi activities.
Fort McKay School: Fort McKay School students and staff will be attending National Indigenous Peoples Day events organized by the Fort McKay First Nation. Following an opening ceremony and parade, the event includes games and activities. 
Hillview School: On Thursday, June 20, 2019, Hillview School is pleased to welcome special guest Tina-Marie Giroux. Giroux will be teaching the students about Pow Wow dancing and drumming and preparing them to perform a dance in the evening.  
On June 21, 2019, the school has organized a variety of activities:
Tipi set-up by Steven Bigcharles.
Opening ceremony. 
Métis history and Hand Games with support from Pedagogical Supervisor - Indigenous Curriculum Terry Lynn Cook.
Skinning and tanning a deer with Steven Bigcharles.
Pow Wow regalia and dancing with Steven Bigcharles. 
Trapping with Marcel Auger. 
Traditional dances, feather and colour meaning for regalia with Kirby and Nancy Chalifoux. 
Prince and Princess of the Colony Obstacle Course Challenge. 
J.F. Dion School: The school is participating in the Fishing Lake Community Traditional Games, bannock making, trapper's tent, and Fort George Buckingham house presentation.