NSD announces new Ward 11 Trustee
Posted on November 23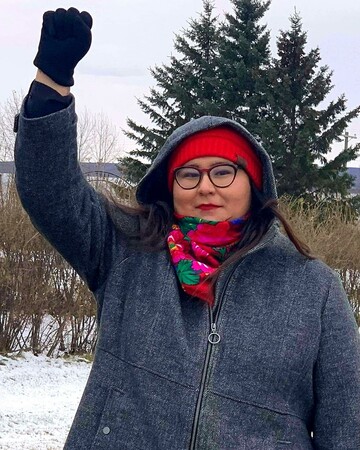 Northland School Division is pleased to announce the official results of the Ward 11 By-election. Skye Durocher, a Fishing Lake Métis Settlement resident, has been declared the new trustee by acclamation. As Ward 11 Trustee, Skye will represent the Fishing Lake Métis Settlement and the Elizabeth Métis Settlement. 
"We are excited to have Skye join us as a member of the Board of Trustees," said Robin Guild, Board Chair. "As we move forward during this challenging time in our lives, Skye is going to help us ensure all students reach success."
Skye was born and raised in the Fishing Lake Métis Settlement. She attended J.F. Dion School from Kindergarten to Grade 6. Following high school graduation, Skye obtained a Bachelor of Arts Degree in Cree Language from Blue Quills University. Durocher is also an accomplished author. She wrote and self-published her first book Spirits of the Northern Lights, which follows the life of a girl named Cora and the lessons her grandparents teach her.
Skye comes from a large family of five brothers, two sisters, and many nieces and nephews. She speaks highly of her mother's strength and resiliency and the support she receives from family and friends. Skye says the support she receives from her family provides an important foundation in her work with the youth in the community.
Durocher will be sworn in as Ward 11 Trustee at the November 28, 2020, Regular Board Meeting.