NSD celebrates new playground at Calling Lake School
Posted on September 13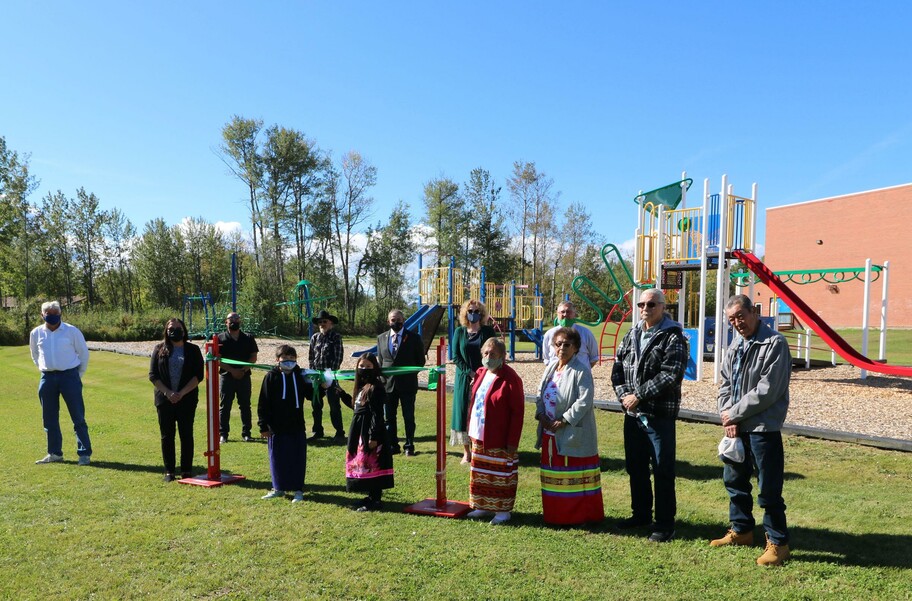 You couldn't ask for a more picturesque day to celebrate an important school project. Northland School Division hosted a ribbon-cutting to officially celebrate the grand opening of the Calling Lake School Playground on Friday, September 10, 2021. The playground construction began in the spring of 2019 and was completed during the 2020-2021 school year. 
"On behalf of the Board of Trustees, I want to thank everyone who played a role in making this project a reality," said Robin Guild, Board Chair. "Playgrounds play an important role in a child's learning development. The Board supports projects that benefit student learning and the communities we serve."
"It was exciting to view the playground for the first time," said Dr. Nancy Spencer-Poitras, Superintendent of Schools. "These kinds of projects are not possible without support from parents, guardians and community members. Calling Lake children will now have a top notch playground because of the collaboration between Northland School Division and the Calling Lake School community."
The grand opening was attended by students and staff, and some Calling Lake Elders, and dignitaries from the Board of Trustees of Northland School Division, Bigstone Cree Nation, the Municipal District of Opportunity and Northland School Division Administration. 
Calling Lake School Grand Opening Group Photo
Left to right: Back row - Marcel Auger, MD of Opportunity Reeve, Barry Schmidt MD of Opportunity Councillor, Silas Yellowknee, Bigstone Cree Nation Chief, Dr. Nancy Spencer-Poitras, Northland School Division Superintendent of Schools, Jason Wiks, Calling Lake School Principal
Front row - Robin Guild, Northland School Division Board Chair, Lorette Gladue, Northland School Division Trustee Ward 8, Emily Johnson, Calling Lake School student, Precious Bigstone, Calling Lake School student, Vivian House, Elder, Lorieda Cardinal, Elder, Victor Gladue, Elder and Melvin Gauthier, Elder