NSD hosting a series of community engagements
Posted on November 23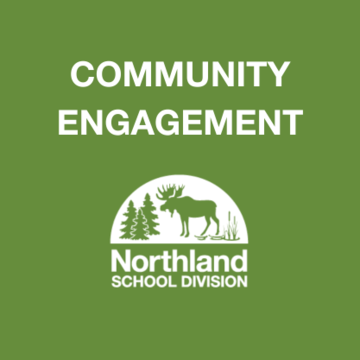 Attention Northland School Division Families, 
We are excited to invite you to a special evening of community engagement. Your participation in this event is not only valued but critical in supporting the learning experience for Northland School Division students. 
This is your opportunity to have your voice heard and to play an active role in helping set the direction for Northland School Division.
Community Engagement Event Dates
November 2nd: Calling Lake School
November 6th: Susa Creek School
November 8th: Hillview School
November 9th: Bishop Routhier School
December 4th: Paddle Prairie School
December 6th: Gift Lake School
January 4th: Elizabeth School
January 5th: J.F. Dion School
January 8th: St. Theresa School
January 10th: Chipewyan Lake School
January 11th: Career Pathways School
January 12th: Mistassiniy School
January 15th: Grouard Northland School
All of the community engagements will begin at 5:00 p.m. and conclude at 7:00 p.m. A meal will be provided. 
IMPORTANT NOTICE
The community engagements for Anzac School/Bill Woodward School, Father R. Perin School, and Conklin Community School have been postponed. We will keep you informed about the rescheduled date.
Attendees will have a chance to win a prize! 
To add to the excitement of this evening, we have some fantastic prizes and gift baskets prepared for each school:
Door Prizes (for each school):

1 prize of a $100 Visa gift card
1 prize of a $50 Visa gift card
2 prizes of a $25 Visa gift card

Gift Baskets (2 baskets for each school):
Each basket includes board games, puzzles, books, hot chocolate, and card games.
If your child attends Northland Online School, we encourage you to attend a session at a nearby Northland school. 
Your voice is significant and we are excited to work with you on making sure Northland students have everything they need to achieve success.