Organizational Meeting Update - Board Chair and Vice-Chair
Posted on September 23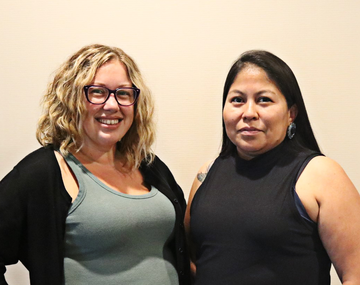 Northland School Division (NSD) is pleased to announce that Cathy Wanyandie has been elected as Board Chair. Before being elected as Board Chair, she previously served as Vice-Chair. Since 2017, Cathy has represented Ward 2 which is located in Susa Creek. 
NSD is also pleased to announce that Trustee Aimee McCamon has been declared the new Vice-Chair. Aimee was elected as the Ward 10 Trustee during the School Board Trustee Election in October 2021. Ward 10 represents the communities of Anzac, Janvier, and Conklin. 
The Board would like to thank Ward 7 Trustee Robin Guild for his contributions and leadership as Board Chair. Guild served as Board Chair from June 2019 until September 22, 2022. 
The nominations for the trustee roles took place during the Organizational Meeting on September 23, 2022. Information regarding the 2022-2023 Board Meeting Schedule, Board Committee Appointments, and Board Representative Appointments will be included in the September Board Highlights.