Provincial Day of Mourning Information
Posted on September 15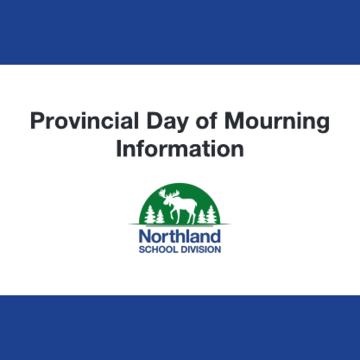 Dear Parents and Guardians: 

On September 14, 2022, the Government of Alberta announced that September 19, 2022 will be a provincial day of mourning in recognition of Her late Majesty Queen Elizabeth II. 

With direction from the provincial government, school divisions are encouraged to offer opportunities for students to take part in the day of mourning. This could include:
Participating in a ceremony taking place at the Alberta Legislature at 10:00 a.m. on September 19, 2022, the day of the Queen's funeral in London. The ceremony will be live-streamed for students who are not able to attend in-person. Additional details on the ceremony are available https://www.alberta.ca/queen-elizabeth-memorial-services.aspx.
Observing a moment of silence or discussing the Queen in the classroom, her life and public service, and what students will remember about her. 
In recognition of Her late Majesty, schools across Northland School Division will organize these opportunities for students and staff to commemorate the Queen's life and her reign. 
While the Government of Alberta followed the federal government's lead and declared Monday, September 19, 2022 a provincial day of mourning, it will not be treated as a statutory holiday in Alberta. Therefore, Northland schools will be open on Monday, September 19, 2022. 
Thank you for your continued support. Be safe.


Sincerely,


Dr. Nancy Spencer-Poitras
Superintendent/CEO
Northland School Division