School Bus Safety Week - October 17-23, 2021
Posted on October 18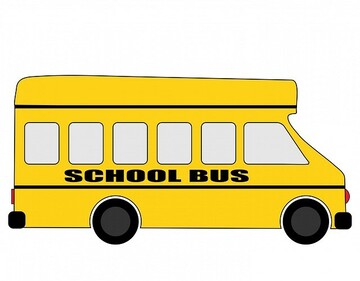 In recognition of School Bus Safety Week, the Northland School Division (NSD) is helping to educate the families we serve on school bus safety October 17-23, 2021. This year's theme is 'Bus Rules Rock!'. 
Sign up for our new Bus App! 
We encourage parents and guardians to register for our new bus app StopFinder. The engagement app allows parents and guardians to see their children's bus schedules in real-time and receive bus cancellations or changes immediately on a phone or tablet. Click here for further instructions. 
Important Messages about School Bus Safety
Did you know? 
When a bus turns on RED flashing lights this means STOP in both directions (Including off-road vehicles in the ditch). NEVER pass a school bus with red flashing lights. The fine for passing a school bus with its red lights flashing is $543 and six demerit points.
Did you know? 
When a bus turns on YELLOW flashing lights this means it is preparing to stop. Slow down and get ready to stop.
Did you know?
Students should be waiting at the bus stop 3-5 minutes before the bus is scheduled to arrive.  The school bus runs on a strict schedule and by being ready, the bus is able to be on time for all of the following stops. 
Did you know?
Parents are responsible for the safety of their children to and from the bus stop. Accompany small children to the bus stop, ensure they are adequately dressed and stand quietly in a group while waiting for the bus.
Did you know? 
Drivers are required to do a DAILY pre-trip inspection to ensure all bus components are working properly and a post-trip inspection to check for sleeping children.
Did you know?
Research consistently shows that school buses are the safest way for a child to travel. A study by Transport Canada found riding a bus to school is 16 times safer than riding in a passenger vehicle. Fewer parents driving their children decreases congestion around schools and makes the school safer for everyone. 
NSD looking for School Bus Drivers
Do you enjoy working with children? Do you enjoy the flexibility of employment? Do you want to contribute to your community? If you answered "YES" to any of these questions then bus driving may be the career for you. Northland School Division is currently hiring regular and spare school bus drivers in all of our communities. Click here to learn more! 
Poster Contest
The Alberta Student Transportation Advisory Council (ASTAC) is sponsoring a provincial poster contest to promote School Bus Safety Week. The contest is open to students in Kindergarten to Grade 6. The deadline is November 6, 2021. Click here to learn more!