Welcome Message - Board Chair
Posted on September 5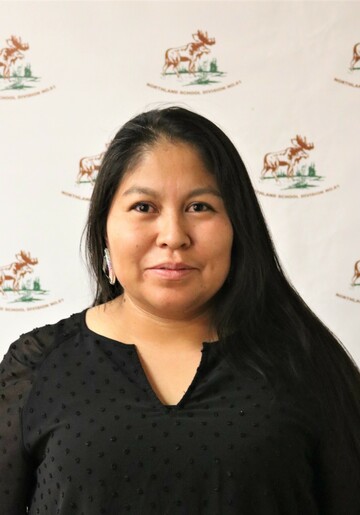 Tansi, Edlánat'e, Hello students, parents, guardians, staff, and community members.
I hope everyone had a safe and restful summer. On behalf of the Board of Trustees, I welcome back returning students and staff. For new families and staff, welcome to the Northland School Division (NSD) team. 
Please welcome our new Superintendent of Schools/CEO
On behalf of the Board of Trustees, I am pleased to welcome back Shelley Willier to the Northland team and look forward to working with her to continue our pursuit of providing high-quality relevant education for our students.
We believe that Shelley's values of trust, courage, wisdom, and kindness, her Indigenous background, and her overall focus on student engagement are an excellent fit for building on the current strengths of Northland.
She returns to Northland having had a wide range of experiences, including a period as an Assistant Superintendent and another as an Area Associate Superintendent in the school division. 
Wildfire Support for NSD families and staff
During the 2022-2023 school year, a number of NSD schools were impacted by the wildfires. We understand that families are still dealing with the aftermath of these events. If families need support, they can contact their local school to connect with a Family Wellness Worker or a Mental Health Therapist. For staff, they can access the Employee Family Assistance Program www.nsd61.ca/information-for-staff/employee-and-family-assistance-program. 
NSD extends open invitation to students displaced by wildfire in NWT and B.C.
As I'm sure you've seen in the news, recent wildfires have resulted in evacuations in the Northwest Territories and British Columbia. Many families have evacuated to various locations in Alberta. If families are not able to return home before the beginning of the school year, Northland School Division extends an open invitation to students who are displaced by the wildfire. They are welcome to attend any Northland school to continue learning. Families can reach us at 780-624-2060 or 1-800-362-1360.  
Upcoming Community Engagement Events 
In my year-end message, I discussed Northland School Division's 2023-2026 Education Plan. Within the plan, you will find NSD's priorities, outcomes, strategies, and measures that have been identified as a result of conversations with staff and school communities. We very much appreciate the feedback we received from families, community members and staff. The feedback is valued and heard. 
This year, community engagement will be a large focus for the Board and Administration. We will be communicating upcoming community engagement events and asking for your input. The Board and Administration want to ensure Northland School Division is moving in the right direction to support student growth and achievement. 
For those new to Northland School Division, we are the largest school division in terms of geography. Covering 288,347 square kilometres, our schools are located near mountains, lakes, rivers, forests, and wetlands in Treaty 6 and 8 territories. The school communities we serve are all different in their own unique ways. 
When the Board and Administration come to visit school communities, we want to make sure the different needs for each community are reflected in the education planning for Northland School Division. 
School Registration
Before I conclude, I have an important message for NSD parents who haven't decided if their child is doing in-school learning or online. It's ok to take some extra time, but please make sure your child is registered. The registration helps NSD figure out teaching assignments, programming for your child, and funding we receive from the province. 
Thank you for choosing and supporting the Northland School Division. I look forward to connecting with our community partners throughout the 2023-2024 school year.


Sincerely,


Cathy Wanyandie
Board Chair
Northland School Division