New Mistassiniy School Infographic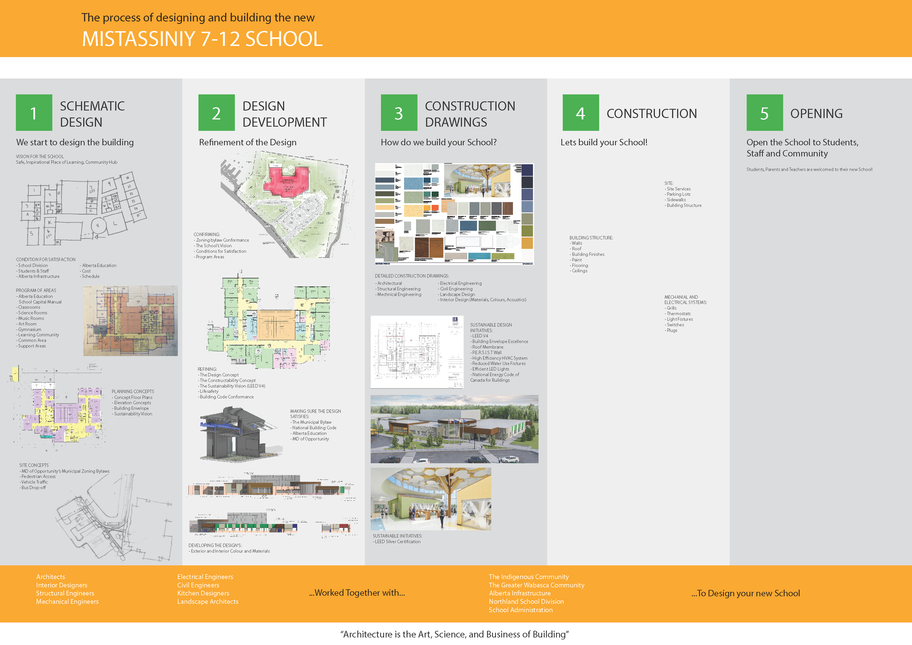 **You can also click here to view the Infographic**
Efforts to get a new state-of-the-art facility built for Mistassiniy School students has been ongoing since the early 2000s. In 2014, Northland School Division was approved for a modernization.  
In 2016, a value scoping workshop was undertaken by Alberta Education and Northland School Division. The session was attended by students, parents, community members (Bigstone Education Authority, Atoske Action Group, Schroder Oilfield, Northern Lakes College), Mistassiniy School staff, staff from other schools, the Official Trustee of Northland School Division and central office staff members from Northland School Division.
Participants brainstormed and prioritized the needs and important considerations for a new facility. As you review the schematic design, feedback from the workshop in 2016 is incorporated:
Separation of junior high and high school students.
More natural light.
More open space.
More options with respect to Career and Technology Studies programming.
New gymnasium.
Cultural elements.
During the 2019-2020 school year, Alberta Infrastructure approached Northland School Division with the replacement school alternative. The alternative is to build a new school with a 450-student capacity instead of a major modernization of Mistassiniy School. On May 22, 2020, the Board of Trustees approved that the Mistassiniy School modernization be revised into a replacement school project. When the Board decided to approve the replacement school project, they felt this would minimize disruptions to student learning and allow us to build a facility that meets the needs of students and the community. Although this is a new school build instead of a modernization, many of the aspects from the original scoping have been included in the structure/envelope of the building.