Northland celebrating improvement in 2020-2021 Annual Education Results Report
Posted on December 13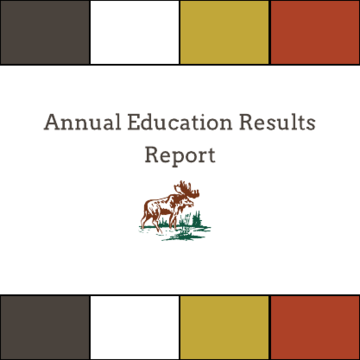 Northland School Division (NSD) is celebrating significant improvement following the release of the 2020-2021 Annual Education Results Report (AERR). The AERR is one way Northland communicates student achievement, accomplishments, and priorities to the students, parents, community members, and school division partners. The 2020-2021 version of the AERR details the positive progress Northland School Division accomplished in meeting Alberta Education Assurance Measures (AEAMs). Analysis of provincial and local information revealed that:
Northland students have shown significant improvement in high school completion. A 20% increase in the number of students completing high school within five (5) years!
There is greater satisfaction with the education quality from Northland parents and guardians. 86% of parents are more satisfied. That is a six (6%) percent increase over the previous year!
There is greater satisfaction with the amount of parental involvement in decisions about their children's future. 80% of Northland parents are more satisfied. That is a 12% increase over the previous year!
Overall, there is a significantly higher belief that Northland students model characteristics of active citizenship. 81% of parents believe students are providing their best effort, following rules and helping others succeed. That is an 11% increase over the previous year!
83% of parents agree that students have the appropriate supports and services at school. That is four percent (4%) over the provincial average! 
"The Board is very pleased with these results, "said Robin Guild, Board Chair. "In 2020-2021, the Board of Trustees updated the key priorities for Northland School Division (Excellence in Learning, Excellence in Leadership and Excellence in Relationships). When reviewing the accomplishments, the improvements are connected to these priorities. On behalf of the Board of Trustees, I want to thank students, parents/guardians, staff and community members for your contributions."
"The fact that there has been a 20% increase in the number of students completing high school within five years is a division-wide success," said Dr. Nancy Spencer-Poitras, Superintendent of Schools. "In reviewing the local data we have gathered, I believe the strategies we have in place to improve student attendance and the work we have done to make learning for Northland students more flexible (in-person, online learning and dual credit courses) has contributed to the marked improvement." 
Since the onset of the COVID-19 pandemic, the following are strategies Northland has applied to support high school completion across the division:
Outreach opportunities through the Career Pathways School (CPS) in Wabasca-Desmarais. They also operate the division-wide Flexible Learning Program. Students in remote communities have an opportunity to complete their high school courses with in-person/virtual support from local teachers and CPS teachers.
High school students have access to dual credit courses! 
Using a division-wide student information system. This toolset supports the overall Attendance Improvement Initiative and has made it possible for school staff members to see current student attendance data at a glance so school-based interventions like home visits (when possible) can be applied to re-engage students who have reduced attendance or engagement.
COVID-safe home visits by student services and other staff members when students demonstrate patterns consistent with disengagement. 
Director of Student Attendance and High School Completion. The Director works with principals to ensure that attendance records are maintained in a standard fashion across NSD, that school staff members have current information about each student's attendance each day, and that students are aware of all their pathways to graduation from Northland schools.
While reviewing the provincial and local analysis for education quality, there is a strong connection to increased satisfaction from parents and the investments Northland made to support student learning. 
"Over the past couple of years, Northland has been investing in leveraging the use of technology to support all aspects of education," said Spencer-Poitras. "This investment has positively impacted the professional learning teachers receive, the learning experience for students, the relationships we are able to develop to support learning, and supports we are able to access for students, parents/guardians and staff. I believe the technology investment has played a large role in the positive feedback we have received from parents/guardians and the communities we serve."
The following are examples of how investing in technology has impacted education for Northland students:
Northland signed an agreement with the TELUS World of Science - Edmonton. This agreement allows teachers to learn innovative ways to deliver science-related topics which in turn enhances the science experience for students. 
Northland students are able to flash university identification cards while attending high school! NSD and MacEwan University signed a five-year agreement that will give students access to dual credit courses. The current dual credit options include:

PSSC 112 - Policing in Canada Hours
Winter 2022; PSSC 121 - Law and the Administration of Justice
TAST 101 - Child and Adolescent Development
Indigenous Studies 100/ Aboriginal Studies 30

Cree/Dene instructors are using technology tools such as Screencastify (videorecording) to support language instruction.  
Host professional learning for staff virtually. This investment has helped with the following:

Distance between schools is no longer a barrier.
Travel time for staff is less and working more efficiently.
Staff are able to connect more often. 
Individuals no longer feel isolated or alone
Relationships and networks of support beyond school/community boundaries. 

Launched Northland Online School. Northland put itself in a position to offer this learning experience because of the technology infrastructure upgrades and the skills Northland educators acquired through division-sponsored professional learning.
Utilizing Hapara to improve the student learning experience. It allows teachers to track progress, submissions and provide feedback to students and students use it to manage assignments and customize their submissions, giving them greater ownership of their learning. Over the summer, several NSD teachers worked to create Hapara workspace courses that align with the Alberta Program of Studies. The project was a collaborative effort that involved NSD and other school divisions in Alberta. 
With respect to parental involvement, the provincial and local analysis shows a connection between increased communication from Northland and higher parent/guardian satisfaction with involvement in decisions about their child's education. 
"We have implemented a number of strategies to maintain and improve the frequency and quality of communication between schools and families," said Spencer-Poitras. "Strategies include increasing the amount of contact with parents and home visits (COVID-19 safe), Zoom (video conferencing) to host school-related or division-wide engagement events, School Messenger to communicate information to parents/guardians via phone, email or text message and social media (Facebook, Instagram, Twitter, LinkedIn) and websites to communicate information to parents/guardians and education partners." 
To view the 2020-2021 AERR in full detail, visit https://www.nsd61.ca/download/374407.