School Board Election Information
Posted on October 13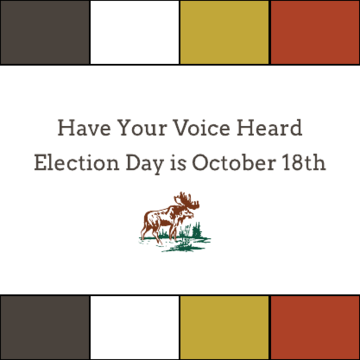 Have your voice heard and vote for a school board trustee! Election Day is Monday, October 18, 2021!
Five elections have been declared. 
Ward 3 - Gift Lake Métis Settlement, Peavine Metis Settlement 
Corrine Anderson
Glenn Laderoute
Bonnie Lamouche
Ken Shaw
Ward 6 - Desmarais, Sandy Lake (Election declared)
Silas Yellowknee (Incumbent)
Thomas Auger
Ward 8 - Calling Lake (Election declared)
Loretta Gladue (Incumbent)
Gwen Schmidt
Ward 9 - Fort Chipewyan (Election declared)
Rubi-Helen Shirley (Incumbent)
Julia Cardinal
Ward 10 - Anzac, Janvier, Conklin, Fort McKay (Election declared)
Aimee McCamon
Megan Shott
Voting will take place on the 18th day of October 2021, between the hours of 10:00 a.m. and 8:00 p.m. Voting stations will be located at: 
Ward
Polling Station Location
Address
3

Bishop Routhier School
Gift Lake School

Peavine, Alberta
Gift Lake, Alberta
6
Mistassiniy School
Pelican Mountain School
Desmarais, Alberta
Sandy Lake, Alberta
8
Calling Lake School
Calling Lake, Alberta
9
Athabasca Delta Community School 
Fort Chipewyan, Alberta
10

Bill Woodward School
Father R. Perin School
Conklin Community School
Fort McKay School

Anzac, Alberta
Janvier, Alberta
Conklin, Alberta
Fort McKay, Alberta
In order to vote, you must produce identification for inspection.  The identification must be one or more piece(s) of government-issued identification containing the elector's photograph, address and name as required by Section 53 of the Local Authorities Elections Act.  This includes an Operator's (Driver's) license or an Alberta Identification card. 
A detailed list of authorized identification is available for information at the local school office or online at https://open.alberta.ca/dataset/1f4ebb64-0ba5-460d-ac43-9f8e59128d7d/resource/6d251d53-42c0-4b0d-afcb-6457fdf9ea0f/download/ma-local-elections-voter-id-2020-07.pdf. 
In addition, if your government-issued identification has a box number as your address you must produce a second document that contains your civic and/or legal land address. 
If you are unable to provide any identification, or cannot confirm your current physical address, you can be vouched for by another registered elector in your polling subdivision. 
A person is eligible to vote if the person: 
is at least 18 years old,
is a Canadian citizen, and
resides in Alberta and the person's place of residence is located in the local jurisdiction on election day.
Resources
Northland School Division is divided into 10 Wards with one trustee being elected in each ward. Click here to view the Ward map. 
Northland School Division Governance. Click here to learn more. 
For more information please contact: 
Douglas Aird, Returning Officer
Phone: 780-624-2060 ext: 6141